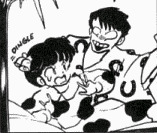 Umakichi and Ushiko, known in Viz's translation as Horsebert and Cowbert respectively, are two television characters. Akane sees Umakichi force himself on Ushiko and thinks Ranma might try to do the same thing to her. Their only appearance is in a television in Embraceable You.
Ad blocker interference detected!
Wikia is a free-to-use site that makes money from advertising. We have a modified experience for viewers using ad blockers

Wikia is not accessible if you've made further modifications. Remove the custom ad blocker rule(s) and the page will load as expected.