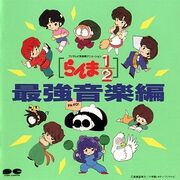 Released on June 3rd, 1992, the Strongest Music OST (最強音楽編, Saikyou Ongaku Hen?) album collects several pieces which appeared after Junji Nishimura took over as director towards the end of season five, with sections written by both Kenji Kawai and Akihisa Matsuura. The CD booklet contained with the album also includes a selection of chibi character stickers for almost every character that appeared in the Ranma ½ anime.
Track List
Edit
Ad blocker interference detected!
Wikia is a free-to-use site that makes money from advertising. We have a modified experience for viewers using ad blockers

Wikia is not accessible if you've made further modifications. Remove the custom ad blocker rule(s) and the page will load as expected.