Red Shoe Sunday (赤い靴のSUNDAY, Akai Kutsu no SUNDAY?) is the second ending of the OVA series, after The Ballad of Ranma & Akane. It is written and performed by DoCo. There is also an english version that was released by Viz Media.
(Shampoo) aozora hikousen
ayashii ayaui ZIG-ZAG hikou
nichiyou juutai ichi ji han
anata wa mada konai
...... tsumannai

(Kasumi) sanhashi akarenga
utsumuku hurimuku kuru SANGURASU
manatsu ni SUUTSU de kuru zukume
dareka ga neratteru
...... hayaku kite

(zenin) PiPi PiPi (Ranma) DEJITARU ga natteru
(zenin) nee hora (Nabiki) nazome ita ihoujin
mou (zenin) ikoku no hune de sarawarete mo shiranai

(Nabiki) jitensha hito chigai
odoroki hurimuku NYANYA warai
CHOTTO MATTE CHOTTO MATTE OJOOSAN
KAMI O SHINJIMASU KA
...... nan na no yo

(zenin) KURA KURA (Ranma) taiyou ga ippai
(zenin) nee hora (Kasumi) dareka ga otte kuru wa
mou (zenin) kono koen wa houi sarete iru no yo

(Akane) hunsui akai kutsu
owarete yobarete uru uru namida
yurushite tasukete minogashite
migi te o tsukanderu
...... anata na no

(zenin) KUSU KUSU (Ranma) doushita no to warau
(zenin) nee mou (Shampoo) anata no sei yo minna
demo (zenin) anata ni nara ne sarawarete mo ii kedo
(Shampoo) Blue skies Blimp
Suspicious Uncertain ZIG-ZAG flying
Sunday Congestion 1:30 PM
You still haven't come yet.
...... It's boring.

(Kasumi) Crosspiece bridge Red brick
Looking downward. I turn around. Black sunglasses
In the middle of the summer, suits all in black
Someone is aiming.
...... Come here quickly.

(All) Tweet Tweet (Ranma) Digital crying
(All) Hey, look! (Nabiki) An enigmatic stranger
Already (All) I don't even know if he was taken away by the foreign country's boat.

(Nabiki) Bicycle The person's different.
Surprised I turn around A laugh
Wait a minute, wait a minute, Miss
Do you believe in God?
...... What?

(All) Giddily (Ranma) There's a lot of sun
(All) Hey, look! (Kasumi) Someone is chasing someone over here.
Already (All) This park is being enveloped.

(Akane) Water fountain Red shoes
Being chased and called at, there are tears
Given approval Help! Overlooked
I've got your right hand,
...... you

(All) Giggle (Ranma) Why are you laughing?
(All) Hey, already! (Shampoo) That's your friend, everyone
but (All) if it's to you, right, then doing that is okay.
Japanese Anime Ending
Edit
English Anime Ending
Edit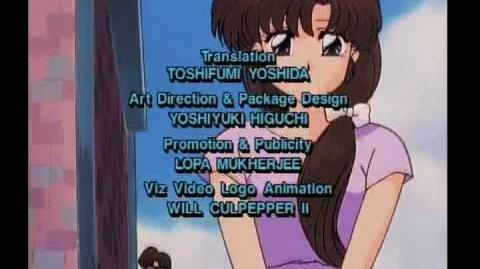 Full Japanese Version
Edit
Ad blocker interference detected!
Wikia is a free-to-use site that makes money from advertising. We have a modified experience for viewers using ad blockers

Wikia is not accessible if you've made further modifications. Remove the custom ad blocker rule(s) and the page will load as expected.